Ok, so I've been absent for a while, to be honest I just didnt really have anything to say!
Have decided to start up again..... posting pics from the comics I am coloring!
Basically, through research into figures i was thinking of customising, I discovered a website called
WWW.BLOODFORTHEBARON.COM
(the website is not fully up @ the moment, but you can check out the forums)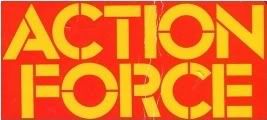 I got talking to the guy who runs it & found out about this awesome project, check it out
HERE!
Also, check out the
jamar miller's deviant art page
, he's the other half of the brains behind this project:
Anyway, to cut a long story short the comic is called "BATTLE ACTION FORCE" & it was the UK version of G.I. JOE.
It was released over 20 years ago & was in black & white (except covers) & I'm working on coloring some of the story lines.
Im currently working on the "Origins Of Storm Shadow" (Cobra Ninja) story, & loving every pixel of it!
I've got two more stories already lined up (& probably a lot more after them) to be honest Im going to gutted when it's finished!
This blog is now going to dedicated to my work for this project + any Action Force/G.I. Joe customs i get done.
I will try to post a pic everyday, but Im not going to post the whole comic, if you are interested you will have to buy it when it gets released. (I will post details about future releases when i get them)
Enjoy, & please leave comments!